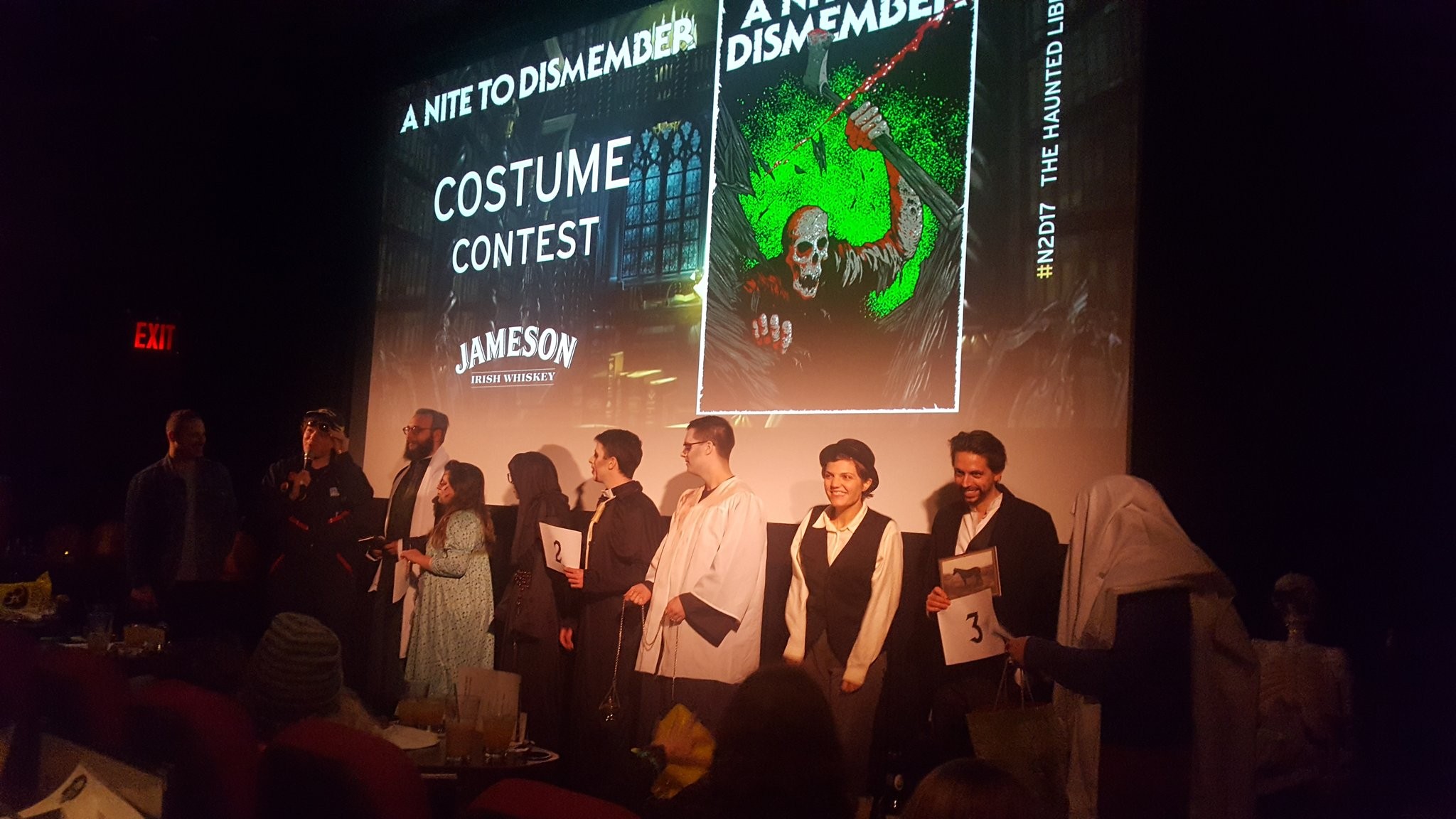 It's been a long time since I attended a movie marathon, so what better way to get back into it by finally attending Nitehawk Cinema's A Nite To Dismember? Their fifth annual Halloween fest is unlike most other marathons in that it starts at 12:00 midnight and continues from there. I've been to many marathons before, including a 24-hour horror marathon (which is an endurance test on another level) but it's been a while, and I'm getting old for this. Despite seeing almost 10 hours of movies way past my bedtime, I managed to stay awake and enjoy the festivities, aided by free Jameson drinks, candy, breakfast and David Lynch coffee, which is strong and flavorful and totally a real thing. Besides the films there was a hilarious costume contest, a rambling book review of Ringu, and some really fun commentary by our hosts, who stayed up the whole night with us and seemed as excited about the experience as the audience did. The theme this year was "Haunted Library", and so every movie was either based on a book or centered on a book.
Why stay up the whole night? The programming was impeccable. Here's what we saw.
The Masque of the Red Death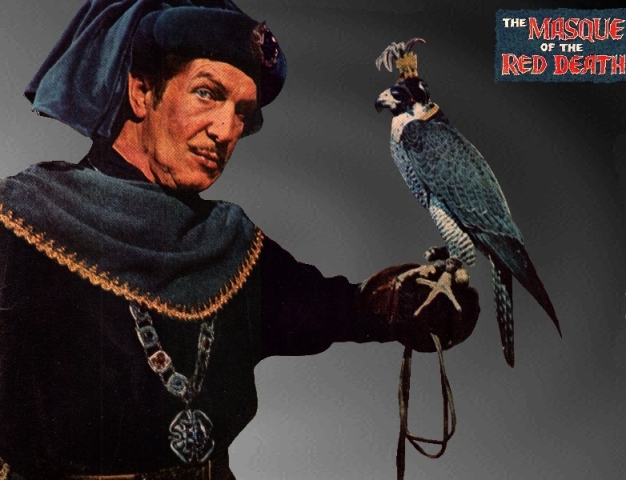 This has long been my favorite Roger Corman-directed film, and with good reason. Is it a good adaptation of the Edgar Allan Poe story? Hell no. Is it a trippy and colorful film aided by an utterly fantastic Vincent Price and Hazel Court performances? Hell yeah it is. They managed to drag up a 35mm print for this and it was wonderful. Price is having so much fun with this role and his Prince Prospero is such a delightfully evil bastard. Perfect way to start the night, especially since I hadn't seen it in years.
The Old Dark House
The one film I hadn't seen before. This little-known gem was recently remastered, and this digital print was gorgeous. Based on J.B. Priestley's novel "Benighted", it centers around a group of people who get trapped in the titular location on a dark and storm night, and soon find out that they're in danger from its sociopathic inhabitants, including a scarred drunkard and a pyromaniac old man. It stars Boris Karloff and Lilian Bond, although Melvyn Douglas's playboy steals the show. Directed by James Whale (Frankenstein), our Nitehawk hosts noted correctly that this may be the first horror comedy ever made, and it still mostly holds up! It meanders a bit in the last act but it's a really fun spook-a-blast flick that was just recently released on 4K blu-ray.
Ringu
To show you how good this night was, this was my only disappointment! I haven't seen Ringu since its original release- I remember going alone to see it at the Walter Reade Theater way back in the day and being completely scarred by it, as it was probably my first J-horror experience. I've seen a number of the sequels and remakes since (don't ask me which ones, I don't know) but have never revisited the original. It turns out that that's a good thing! Once you know the twist at the end the entire movie falls apart. You see the pivotal moment happen about 20 minutes in the film and are just waiting in vain for the characters to realize the real way to lift the curse for the entire run-time of the damn film. It's also not nearly as scary as I remember, something I think the American remake actually improved upon in some ways (although it's still nowhere near as good). But I mean there's no comparison of which is freakier- this: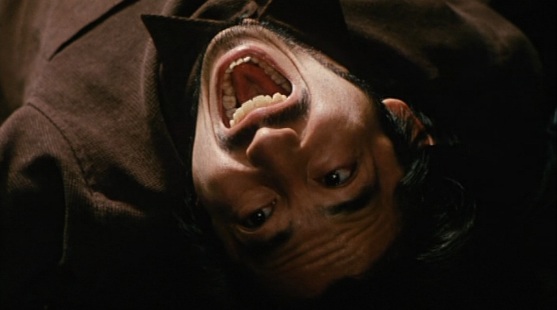 or this.
Going to have to revisit some more of those now-classic Japanese flicks to see if they fare any better.
The Babadook
Utterly perfect programming for this one. At this time slot (about 7 in the morning at this point!) this is the moment where we could have been lulled to sleep with a lesser film, but there's no way you're passing out with Essie Davis's insanely powerful performance. I really don't think she's lavished with enough praise for this role, and seeing it in theaters (where I missed it the first time around) only increases its impact. One of my favorite recent horror films, and seeing it for a second time made me love it even more. Fun fact- if you're a parent it's twice as fucked up!
The Manitou
What a way to end a night (day?) The 35mm print was scratched to shit at points and everything looked red, but when your movie is as insane as this it doesn't really matter. I still want to know what led Tony Curtis to sign on to this story about a woman impregnated on the back of her neck with a native american deity, which grows and grows until it rips its way out of her back fully-grown. The ending really has to be seen to be believed, and even then you're not sure that everything is really happening, especially when you just broke night and it's 9:00 in the morning.
---
Thanks to everyone at the Nitehawk. Really had a blast, and will absolutely be back again next year. Now, to catch up on my sleep…